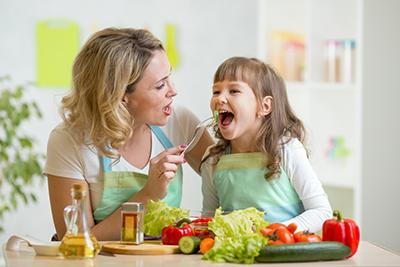 You want your child to be healthy, and one of the cornerstones of good health is nutrition. If your child is a picky eater, likes to eat junk food, or loves sugary foods and drinks, great nutrition can be difficult to achieve. Your pediatrician can help.
First, let's look at how many calories your child should consume every day, according to Healthychildren.org:
If your child is 2-3 years old, 1000 calories is ideal
If your child is 4-8 years old, 1200-1400 calories is ideal
For girls 9-13 years old, 1400-1600 calories is ideal
For boys 9-13 years old, 1600-2000 calories is ideal
For girls 14-18 years old, 1800 calories is ideal
For boys 14-18 years old, 2000-2400 calories is ideal
You should feed your child:
Lean proteins, including fish, chicken and turkey
Fruits, including whole fruits and not fruit juices
Vegetables, including plenty of green leafy vegetables
Whole grains, including rice, quinoa, and whole wheat
Dairy products including milk, yogurt, and cheese
So, what can you do to promote healthy eating habits? These are some excellent ways to help your child eat a healthy diet:
Eat a healthy diet yourself because your child will do what you do
Have regularly scheduled family meals, serving healthy foods
Provide a wide variety of food choices to encourage your child to try new foods
Let your child invite a friend over for dinner
Keep healthy snacks on hand including fruit, cheese, and nuts
Avoid making a big deal over food, because it can potentially lead to an eating disorder
Involve your child in food choices, so your child is invested in the process
You can also have your child help you cook meals, so your child learns the value of good nutrition. Your child will also feel more invested in eating a meal that he or she has prepared.
Healthy eating and great nutrition are the foundation for excellent health throughout your life. To find out more about promoting healthy eating habits for children, talk with an expert. Call your pediatrician today.